Over the past few months, we have been witnessing an unsettling increase in mortgage costs, with further rises anticipated. The Bank of England's base rate is now expected to reach a staggering 5.5% by next year, a level that has not been seen in recent times.
Nationwide Building Society has already announced that interest rates on new fixed-rate mortgages will rise by 0.45 percentage points. Other major lenders such as Halifax, Santander, and Atom bank have followed suit, with their rates increasing by up to 0.2 percentage points. This, coupled with a decrease in the availability of mortgage products, paints a concerning picture for prospective borrowers. According to Moneyfacts, there has been a drop of 38 mortgage products in just two days.
The average two and five year fixed mortgages have fallen from their recent highs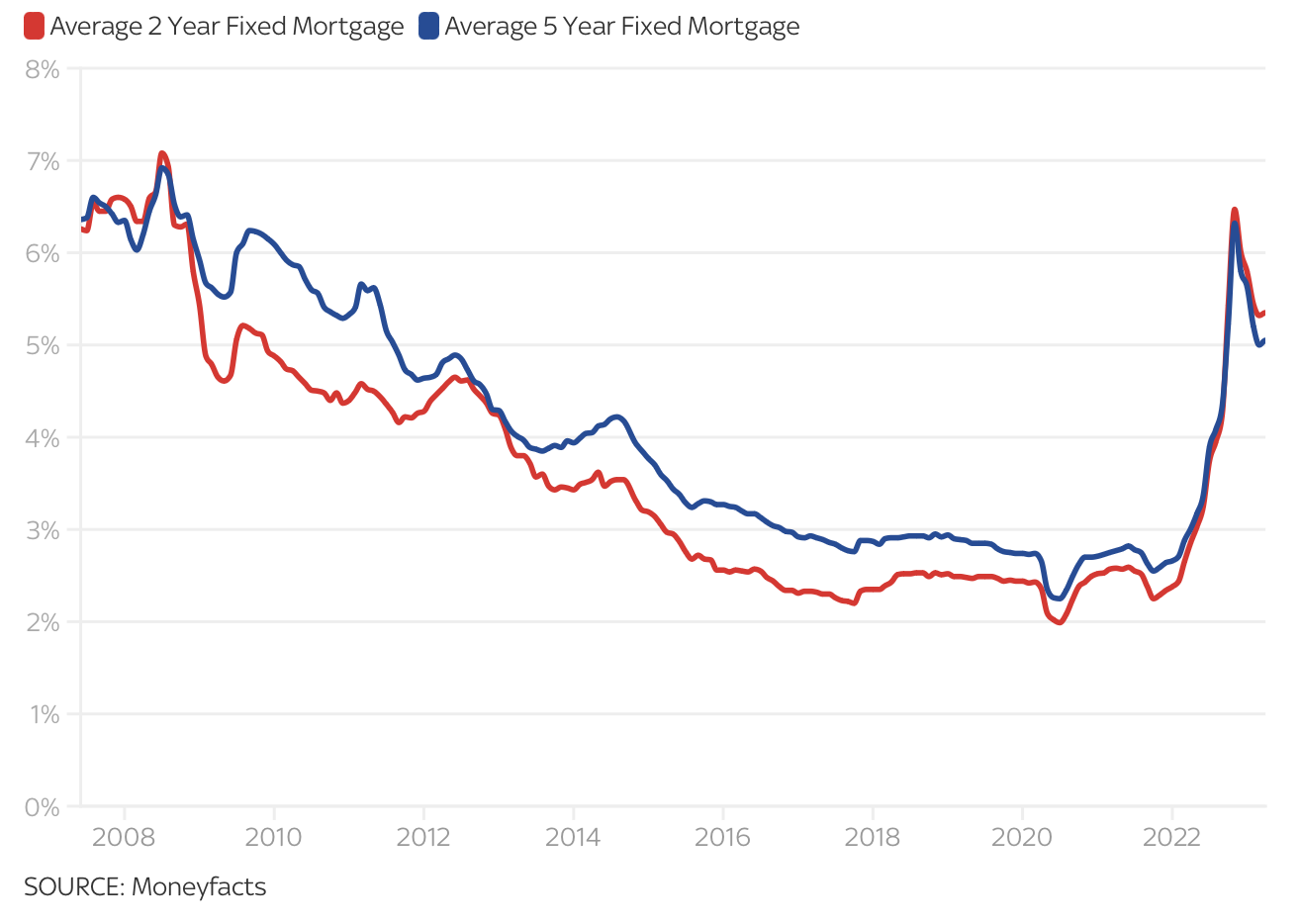 Unfortunately, the situation is predicted to worsen. Despite the recent decline, the average two and five-year fixed-rate mortgages are now at 5.35% and 5.02% respectively. These costs have seen a significant increase following the market turmoil of the September mini-budget announced by former chancellor Kwasi Kwarteng.
The Bank of England's base rate, which was previously thought to have peaked, is now expected by markets to reach 5.5% by November and remain elevated until February 2024. The anticipated increase is being priced in by lenders when evaluating what rates to offer new customers, impacting the mortgage market and, subsequently, personal finances nationwide.
Despite these challenges, our service at Debt Free Advice continues to stand resilient, providing free and impartial advice to those struggling with their personal finances. In a time where many are finding it increasingly difficult to keep up with their bills, our dedication to helping those in need is more important than ever.
Our data indicates that customers are dealing with an average of 3.9 debts per customer, a record-breaking number. With utility bill debts doubling over the past two years, it is clear that the cost-of-living crisis is pushing many to their breaking point.
However, despite these challenging times, we've seen an incredible testament to our efforts as Debt Free Advice's customers' satisfaction has reached an all-time high. Our Trustpilot reviews, scoring a fantastic 4.8 stars out of a maximum 5, highlight the impact of our dedicated service. Over the past year, our free and impartial advice has not only guided individuals through their financial hurdles but has also left our customers £13 million better off financially. It's noteworthy that our average client faces a debt amount of £11,411 - a significant burden. But we at Debt Free Advice are fully committed to reducing this figure, equipping our customers with the best advice and strategies to manage and overcome their financial difficulties.
My call to action is simple: If you're worried about your personal finances, or are struggling to keep up with your bills, we're here to help. We have a wealth of free and impartial advice to offer, and there are many ways we can assist you in navigating these challenges. 
Please don't hesitate to reach out to us at Debt Free Advice. As we've said before, we're proof that there are a great many more people out there who could benefit from our free, expert advice.