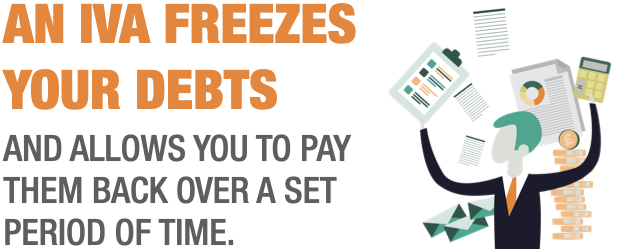 How an IVA works
An Individual Voluntary Arrangement (IVA) freezes your debts and allows you to pay them back over a set period.
Any money you still owe after this period is then written off.
You can apply for an IVA if you can afford to pay something towards your debts but not necessarily the full amount your creditors want.
You will need to show you have a regular long-term income as the repayments will usually cover a period over 60 or 72 months (five to six years).
If you have a lump sum to pay towards your debts, you might also qualify for an IVA.
The IVA is set up by a qualified professional called an Insolvency Practitioner, who will work with you to put together a proposal to take to your creditors for approval.
It very much depends on what your circumstances are as to whether they will agree to the plan.
An IVA is a legally binding agreement between you and the people you owe money to.
This means once you've signed it, neither you nor your creditors can back out. So you need to make sure it's right for you.
Which debts can you pay off with an IVA?
You can use an IVA to help pay off many common debts, including:
overdrafts
personal loans
catalogue debts
Council Tax arrears
hire purchase debts
mortgage shortfalls
credit and store cards
money you owe to HM Revenue & Customs, like income tax or National Insurance contributions.
Which debts can't you pay off with an IVA?
You can't use an IVA to pay off:
student loans
magistrates' court fines
certain types of car finance
Child maintenance or Child Support arrears.
Mortgage and rent arrears- Technically, you're allowed to include mortgage and rent arrears and other secured loans against your property in an IVA. However, your creditors have to agree to this and often they won't do so. Check with a Debt Free Advice Advisor what you can and can't include in an IVA.
How to set up an IVA
You have to set up an IVA through an Insolvency Practitioner.
There are fees to pay to the Insolvency Practitioner which are usually taken from your monthly payments.
You should not have to pay any up-front charges before your IVA has been set up.